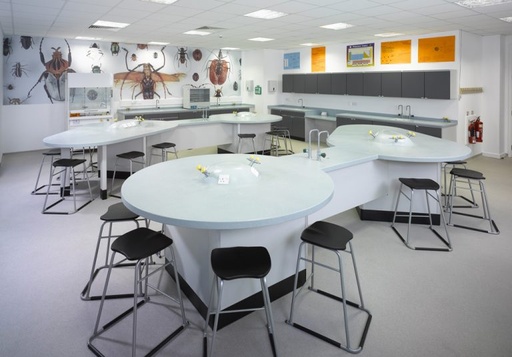 ⬇️ S+B UK Laboratory Furniture
S+B UK STEM Furniture STEMline
The Stemline System is a new multi-use learning environment. It provides a contemporary and stimulating learning environment to integrate STEM skills across the curriculum. 
Creating a flexible learning environment 
Stemline combines fully serviced fitted benching required for science, smart contemporary semi or un-serviced mobile workstations for IT, design and academic study, with the heavy duty build quality essential for Technology and Engineering. 
The Stemline environment can be created by a mix and match of different options. Serviced perimeter benching and fume cupboards can facilitate biology and chemistry, teaching walls can double up as resource bases and focal points for discussion and full class address. Moveable workstations can be reconfigured to facilitate different student groups working on different project elements at the same time but within the same space and the clean but heavy duty semi serviced workstations are equally suited to design, planning, evaluation and work with machine tools and resistant materials. 
The Stemline multi-use learning space combines a laboratory, design studio, a maths classroom with a clean, contemporary technology and engineering workshop. 
Some of the Stemline workstations include features for specific applications such as the cable management tray and brush seal feature on the IT workstations, but all are designed to be multi-use. For example, the IT workstation is sized and has the load bearing capability to deal with the weight and vibration caused by and to be used with machine tools. Realisation workstations can be supplied flat or with a surface infill to create a flat multi-use area.
Meeting the need for STEM skills: 
Demand for STEM skills is strong across the economy and is set to grow in the coming years. STEM study will continue to unlock an array of opportunities for young people at every skill level. 
Among those organisations that need employees with STEM skills and knowledge, employers of every size struggle to find the STEM talent they require: 
42% of those firms needing STEM skills report they have difficulty in recruiting STEM-skilled staff at some level 
23% currently face difficulties in meeting their need for experienced staff with expertise in science, technology, engineering and mathematics
17% report problems in finding suitable graduates 
13% say it is hard to find people with STEM skills to train as apprentices 
45% anticipate difficulties over the next three years 
Studying science and mathematics unlocks a range of employment opportunities for young people across the economy. Success in promoting science and mathematics to your people depends on high-quality teaching delivered by subject specialists.

S+B UK Laboratory Furniture Systems and Fume Cupboards
View all
S+B UK Spacesaver Working Wall
The Spacesaver Working Wall - A practical furniture storage solution, creating a stylish and space-efficient educational and working environment.
Stylish and Innovative storage furniture 
The S+B Spacesaver Working Wall has been developed specifically for a wide range of environments, from educational to laboratories, technology areas and many more. 
To demonstrate our design team have created 5 example renderings to show several possible uses. The Spacesaver Wall can be assembled in endless configurations such as a teaching wall with whiteboards for school and university, or as a space efficient resource base for any work or research environment.
Versatile Storage Options 
The Alpha, Beta, Gamma, Delta and Epsilon walls shown are examples of what can be accomplished, however the Space Saver Working Wall can be used in many configurations. Our design team will work with you, from initial consultation of designs, including CAD and 3D drawings allowing you to view the working wall configuration before manufacture. 
Functional space-efficient storage 
The Spacesaver range of free standing tall storage modules includes shelving, tray units and baskets (both of which can be autoclaved), drawer packs, laptop charger/storage units, filing cabinets, display cabinets, waste cabinets, and pull out storage units. All of which can be configured in countless ways to satisfy specific client needs. 
Take advantage of space at higher levels which would otherwise have been wasted and unused. We can provide a safety ladder hooked on the full width rail, with side grab rails, allowing for easy and safe access to the top of higher assemblies.