Home Lighting
Finest Lighting Solutions for your Home
Architectural Lighting
Architectural Lighting Solutions for your private living space
SPOTLIGHTS IS A DISCREET AND FLEXIBLE LIGHTING SOLUTION
Spotlights in the ceiling is a popular lighting solution as the primary light source in both exclusive private residences and high-end businesses. This is due to the discreet appearance of the fixtures which leave no visual noise. Furthermore, spotlights are popular because of their ability to change angle and direct the light exactly where it is needed.
Spotlights may also be used to light specific objects such as artwork, sculptures or significant architectural features of the space.
At ONE A, you will find a wide range of beautiful, yet toned down recessed spotlights in an architectural design. Our spotlights direct the light precisely and completely free of spill light which sets it apart from other conventional spotlights.
If a more visual lighting solution is desired, luxury pendant lamps from ONE A is an ideal choice as a stunning focal point over the dining table, kitchen island or as an architectural suspension to light offices, hotels, restaurants, and more.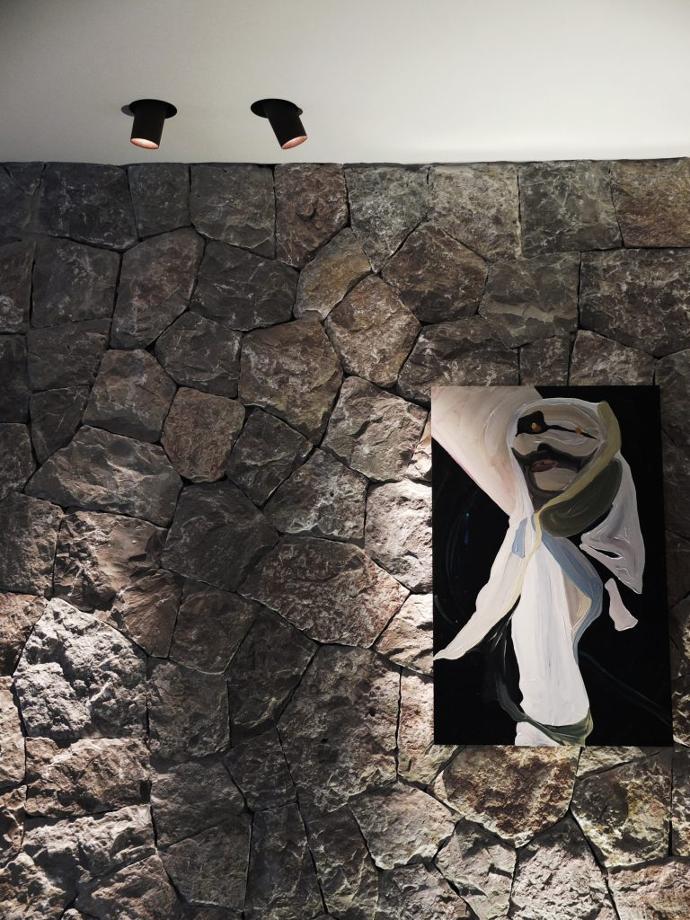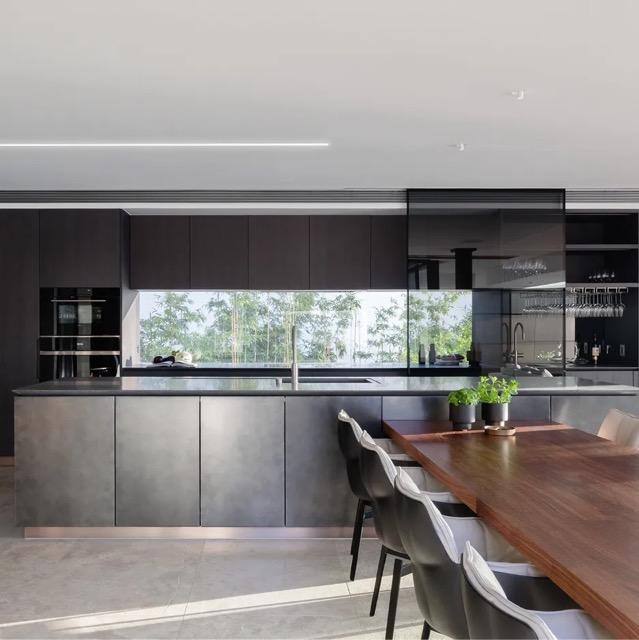 Safety and visual comfort
Modern living spaces are trending towards an open kitchen with a sideboard and bar or a combined kitchen/living room where communal preparation and eating merge. This makes it all the more important to have versatile kitchen lighting that ensures safety by providing sufficient brightness. Good general lighting makes it easier to keep track of cupboards and utensils. The light intensity should be at least 500 lux for sufficient visibility to prevent accidents when chopping or using the stove. Wide-beam ceiling spotlights or luminaires create uniform brightness on all surfaces, improving orientation.
Variable solutions for modern kitchen island lighting
Single ceiling spotlights or downlights are ideal for kitchen island lighting. Turn them on while cooking and simply dim them when you are finished. Track systems are a clever solution for the work area. Individual light insets deliver targeted lighting for the sink, stove, and worktops. Under-cabinet luminaires offer ideal, glare-free illumination of counters or worksurfaces, as they are mounted "invisibly" underneath cabinet or shelf boards. Optics also play a key role in kitchen lighting. The higher the colour rendering value of kitchen luminaires – CRI90 or more is recommended – the more appetising food looks and the better its quality and freshness appears.
PROPER LIGHTING IMPROVES YOUR WELL-BEING
Lighting is often an overlooked aspect when designing the interior of a space, whether it be a restaurant, office landscape, a jewellery store or a private residence. That is unfortunate since lighting does a lot more than just illuminating a room. In fact, it can completely transform the look and perception of a space. Lighting plays a significant role in setting the mood and atmosphere of a space. The right lighting design can also improve job satisfaction and well-being at a workplace and help create a calm and relaxing intimacy in your home or restaurant. At ONE A, we are specialized in designing and manufacturing architectural lighting and smart-home solutions. Our understanding of architecture allows us to design multi-functional smart home solutions while maintaining a beautiful, aesthetic, and discreet design.
THE RIGHT LIGHTING FOR THE RIGHT PURPOSE
When choosing the lighting of a space, deciding the experience and atmosphere desired to be achieved is essential.
Indirect and dim lighting will help create an intimate, relaxing, and calm feeling and experience, while bright white and direct lighting will activate the brain and allow focus.
Therefore, the type of lighting used in a space depend on the experience that wish be created. This applies whether the goal is a cosy atmosphere, a luxurious experience, or an intimate feeling.
At ONE A, we offer lighting solutions for any occasion. With hundreds of different possibilities and combinations, we provide an almost unlimited flexibility and customization in terms of lighting designs.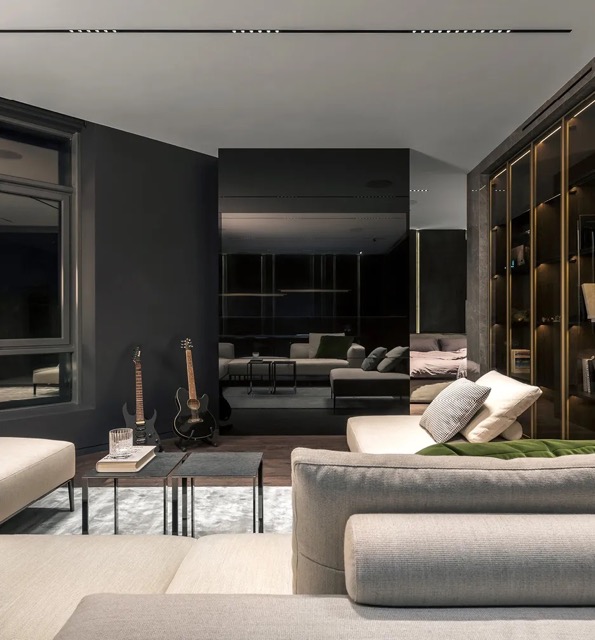 Adaptable lighting
The desired spatial effect in the living room is created by a tension between light and shade. Basic illumination with warm-white light crafts a cosy ambience, while accentuated spots or spotlights used selectively make a room interesting and tangible. In the case of luminaires with a Tunable White spectrum, the light colour and intensity are simply adjusted via a mobile device or are programmed as various light scenes. This allows you to vary the living room lighting in line with the time of day – to wake up more easily in the morning and fall asleep better in the evening.
The right room lighting for a homely ambience

The living room is the centre of most modern houses and apartments in both a spatial sense and as a space for exchange and conviviality. It is crucial that people feel at home and can relax here. The living room often serves many functions, especially in reduced living spaces. It is a place for lounging and recreation, a hobby room, and a dining room. The living room lighting must fulfil different tasks. The light is homogeneous yet flexible when different luminaires are combined. Ceiling luminaires, for example, provide basic brightness, while spotlights on pictures or display cabinets set visual accents, lending the room visual excitement. Track luminaires with an indirect light component create a pleasant atmosphere; dimmable floor luminaires can be switched on or off as required.
DISCREET AND AESTHETIC ARCHITECTURAL LAMPS

Another key element in terms of beautiful lighting design, is hiding the light source. Lighting emitting from an unseen vantage point emphasises architectural form and structure and adds mystery and depth to the space. Especially in small spaces such as the entry hall, walk in closet, basement or wine room. This type of lighting is called architectural lighting.
Photo: © ONE A Project: HOUSE DC , Private Residence. Location: Belgium

Architectural lamps are lamps that are a part of the geometry of architecture. The objective of architectural lamps is to illuminate a space correctly and accentuate decorative elements, architectural factors or materials.
Our STORM SYSTEM® is the perfect choice as a hidden and discreet lighting solution for the high-end private residential, as no cable, pipes or wires are visible. Instead, the ceiling will have an aesthetic, clean and minimalistic expression.
Decorative Lighting
Exclusive Designer Lighting for your private living space
Solution for Luxury Homes
A bigger picture of what we offer for your special homes.