Light for educational institutions

XAL
One of the best manufacturers in the lighting world. XAL creates tailor made best-of-the-kind lighting solutions.
The brand has some unique lighting products such as the renown UNICO or the trend setter MOVE IT system, at the same time it offers a wide range of choices for most lighting problems designers encounter for interior spaces.
Learn more about our offering in the lighting world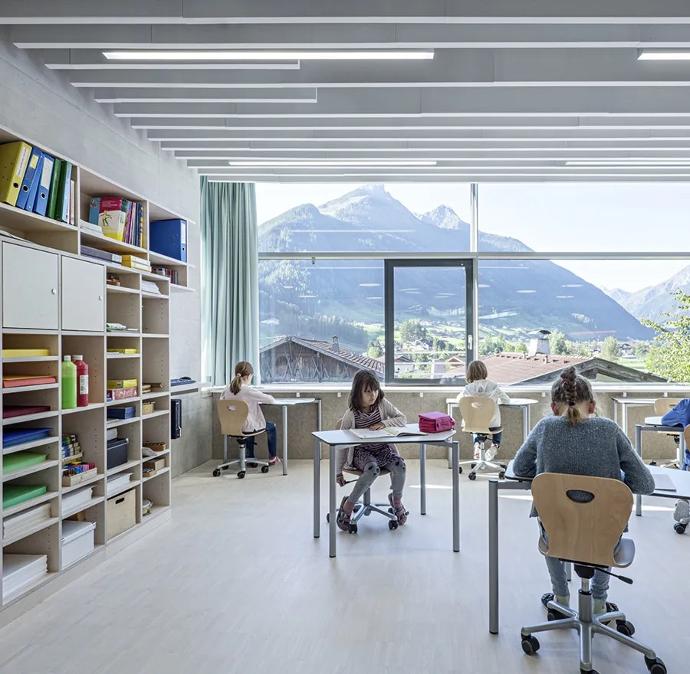 Learning more effectively with the right light
Light greatly influences well-being and concentration. Lighting at universities, schools, and kindergartens makes a significant contribution to how well students, pupils, and kindergarten children can find their way around and focus at educational institutions.
Lighting needs to remain flexible to cater to a wide range of new teaching formats. In lecture halls and classrooms, excellent, reflection-free vision is a top priority, while reduced-glare and balanced brightness protect the eyes from fatigue. Luminaires should create a pleasant ambience in libraries and cafeterias in schools. Additionally, they play a representative role in the assembly hall or outdoors.

Photo: © hertha hurnaus
Smart lighting at schools and universities
Light also influences mood. Cool daylight white promotes attention while warm white light has an inspirational and relaxing effect. Biodynamic lighting supports learning and regeneration by adapting to the human rhythm throughout the day. In addition to lighting in school buildings, room acoustics have a significant impact on successful learning. Acoustic elements optimise speech intelligibility and reduce noise, thus improving presentations and cutting distractions during conversations.
By using smart luminaires, the lighting system can be more sustainable and efficient with the help of state-of-the-art technologies. Intelligent sensor technology coordinates natural lighting conditions with artificial light, and presence-controlled lighting systems save energy. Above all, lighting in an educational institution creates security and identity – and crafts an environment in which students and pupils find their way around, feel a sense of belonging and enjoy learning.
Photo: © hertha hurnaus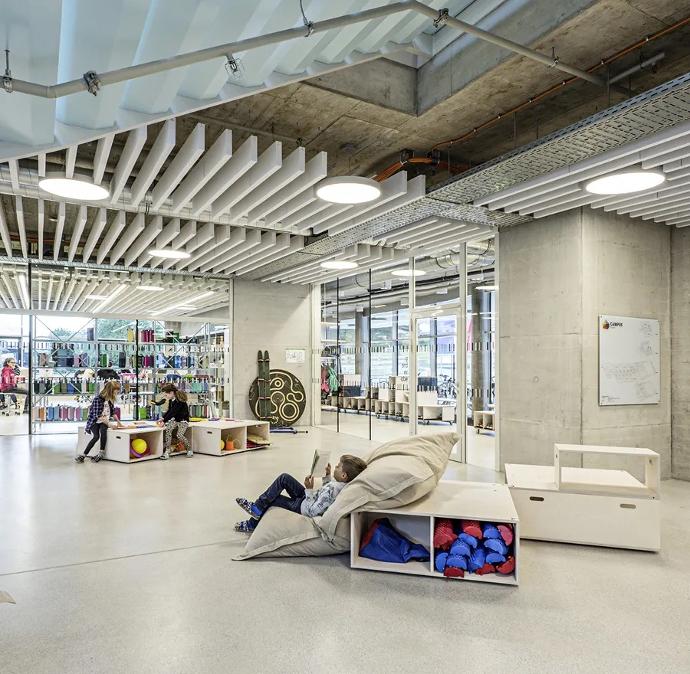 Inspiration for the lighting of schools, universities, and kindergartens
Appealing and functional: successful lighting for colleges, schools, and universities creates a sense of well-being, strengthens focus, and supports the overall architectural concept of the educational establishment.
Lighting design trends for educational institutions
Lighting and music in symbiosis
Experience the different areas of the Lucerne University of Applied Sciences and Arts and be inspired by music and lighting.
A matter of brightness
We would like this comprehensive brochure to provides you the best possible support in lighting design for educational facilities. You will find concrete application examples for the lighting of technical colleges, schools, universities, and other educational institutions.