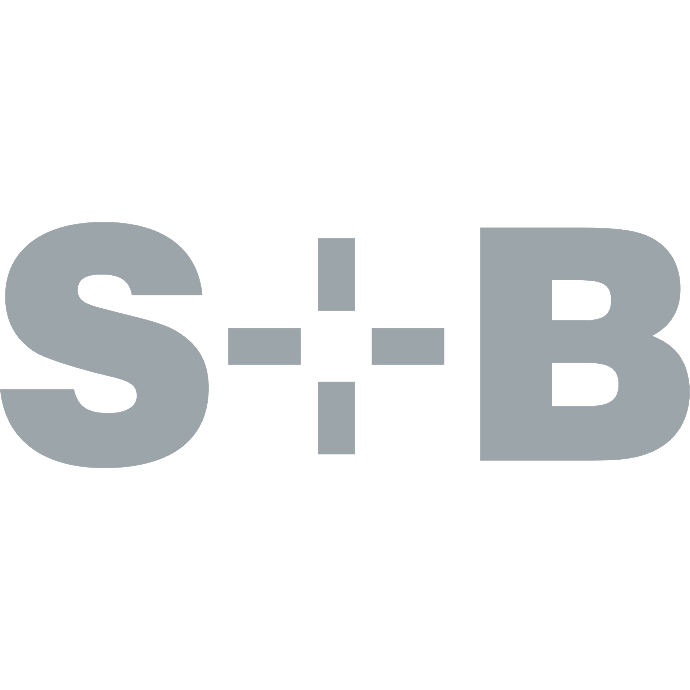 S+B UK
S+B UK is one of the international leading specialists in the design, manufacture and installation of innovative furniture systems for Laboratory & Educational environments.
We work with schools, universities, healthcare and pharmaceutical facilities and industries such as food and beverage, oil and gas and others with Research and Development emphasis.
Not only a high quality furniture manufacturer
We play a proactive role in leading the research and practice of how design and manufacture of furniture can cater the important changes that are happening with learning across schools, universities and organisations. Learn more about S+B by visiting the British Manufacturer's website here...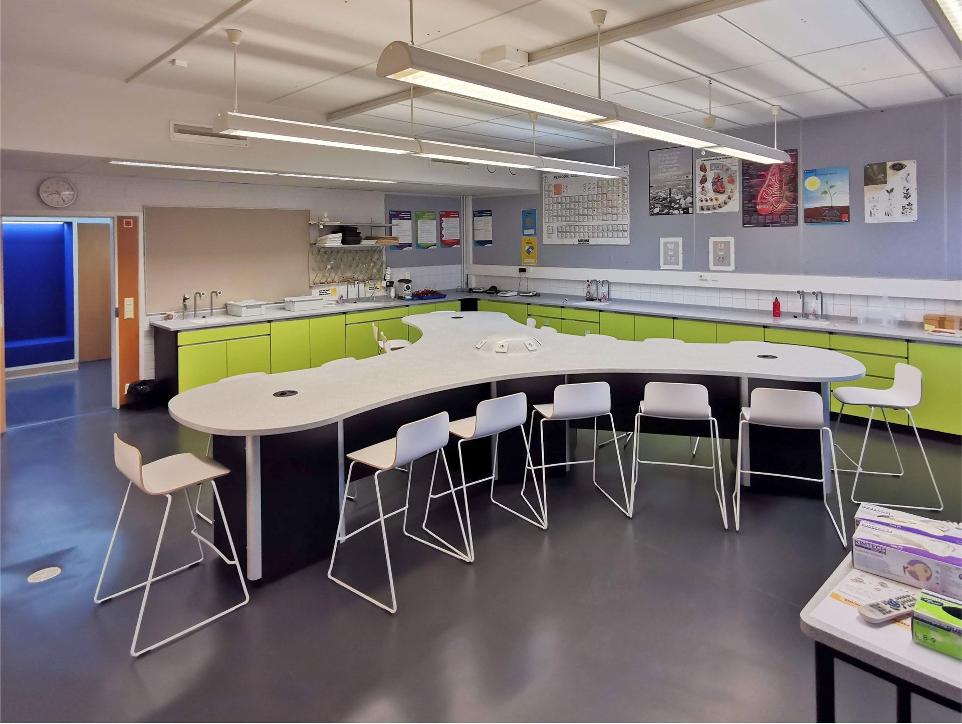 Furniture for Learning
School furniture for:
Science (laboratory furniture & fume cupboards)

Design Technology

Food Technology

Information Technology

Cross-curricula general classroom furniture

STEM

SEN
International School Case Studies.
Lab Engineering
We serve such industries as, Food, R&D and Pharmaceuticals, Universities and Healthcare/Hospitals.

Laboratory furniture & fume cupboards for:
Universities & Higher Education
Healthcare
Research & Development
Food & Beverage
Utilities
Industry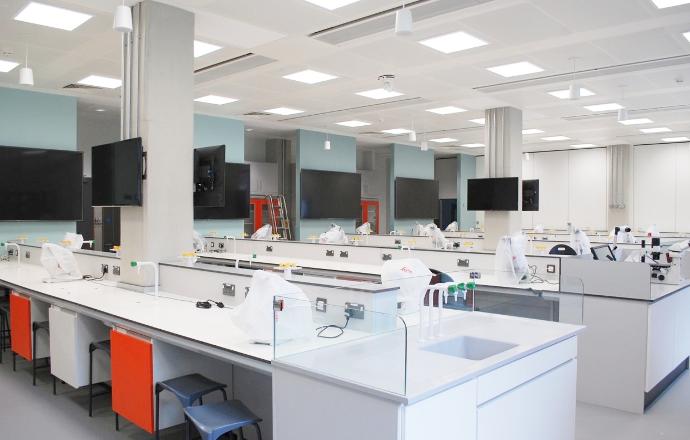 Ecoline - An environmentally friendly fume cupboard which pays the highest regard to operator protection, through intelligent, ergonomic design and construction.
Laboratory interiors with build quality and style
The Exemplaire System creates a smart, modern, motivational learning, research and process environment.
Designed for laboratories with flexibility in mind.
Previous
Next
The Exemplaire C Frame System combines heavy duty functionality with attractive contemporary styling.
Lab Engineering Case Studies.
---
Turnkey Package
A true one-stop solution. S+B can completely transform your current learning area into a state of the art general classroom, IT suite, laboratory, design and food technology environment.
We provide a Turnkey solution, which makes it easy and efficient for you, with minimal down-time for usage of the rooms.
Everything you might need, from design-led standard products to a complete bespoke solution, can be supplied and fitted by us, bringing you a true one-stop solution and peace of mind.
We have 40 years of experience in turning old fashioned, uninspiring places into fabulous new learning laboratories, food technology rooms and IT suites. Working for schools, colleges and universities our professional approach and commitment to quality ensures your project will be completed on time, within budget and with minimum disruption.
Our turnkey solution includes the following procedures;
Free consultation and design service

Strip out and dispose of old furniture, fitments and structures

Complete project management, ensuring compliance with health and safety

Specially designed quality furniture meeting exacting standards

All mechanical, electrical, gas, plumbing, building and structural works carried out by accredited craftsmen
Professional Clients
S+B UK have worked with a large range of professional firms for large scale projects.
Science Furniture
A Comprehensive Offer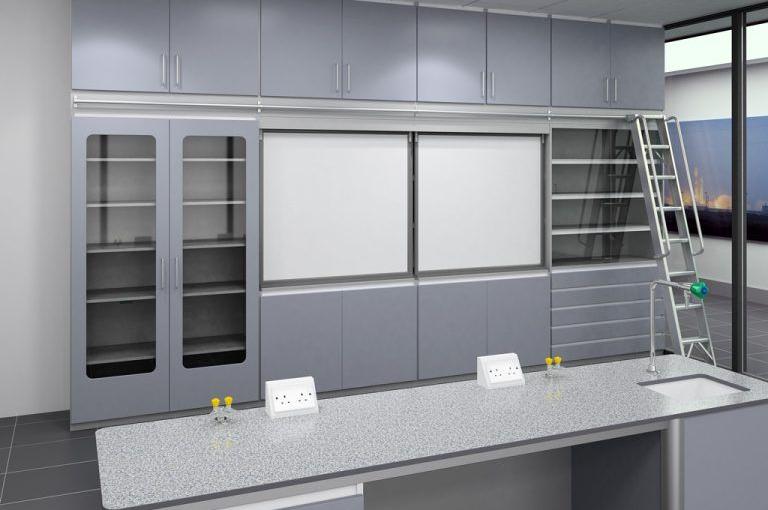 Spacesaver Working Wall
The S+B Spacesaver Working Wall has been developed specifically for a wide range of environments, from educational to laboratories, technology areas and many more.
The Spacesaver range of free standing tall storage modules includes shelving, tray units and baskets (both of which can be autoclaved), drawer packs, laptop charger/storage units, filing cabinets, display cabinets, waste cabinets, and pull out storage units. All of which can be configured in countless ways to satisfy specific client needs.
Mobiline recirculatory fume cupboard
Mobiline is a new generation re-circulatory fume cupboard. It's development is based on over 40 years experience of manufacturing and installing conventional ducted fume cupboards into schools, universities, healthcare, R&D and a wide range of commercial laboratories.
These fume cupboards are becoming increasingly popular in schools and colleges, because of their flexibility The Mobiline can be used in different locations within the same classroom and can also be shared between classrooms. This makes Mobiline a much lower cost option for schools with limited budgets and for circumstances where venting to outside atmosphere is impractical.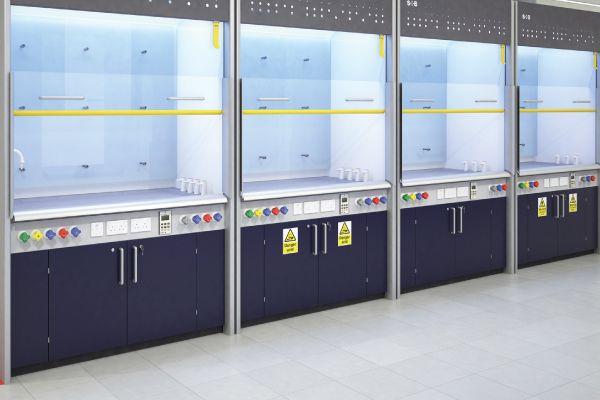 Ecoline fixed fume cupboard
An environmentally friendly fume cupboard which pays the highest regard to operator teacher/pupil, through intelligent, ergonomic design and construction.
Research, development and testing has proven that the highest containment standards for operator protection and the most efficient containment factors can be achieved by significant reductions in the amount of heated and conditioned air consumed, when compared to traditional fume cupboard designs. The Ecoline range is such that 90% of all general fume cupboard applications can be facilitated from one of our pre-engineered, tried and tested standard modules.
High Quality Materials
And also a wide range of colour options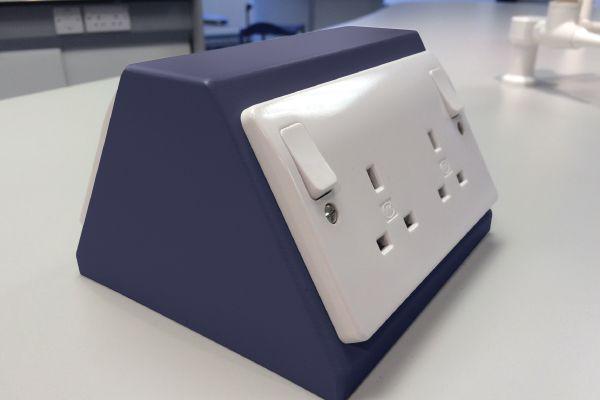 Metalwork & Electrical Ped Box
Our metalwork, ERW steel is finished in an easy to clean, chemically resistant polyester powder coating. Our pedestal boxes are epoxy powder coated steel mounted to the worktop for housing single, double or back to back sockets.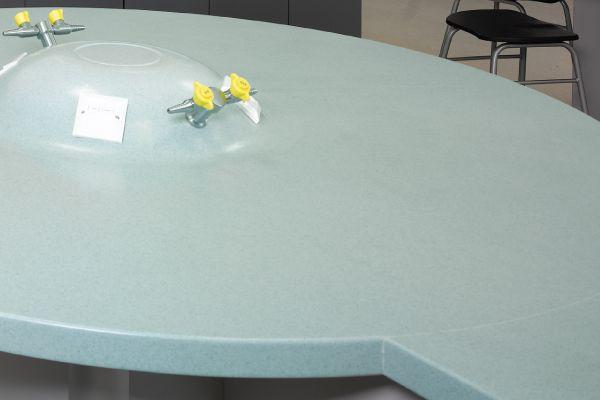 Corian Worktop
Our DuPont Corian worktops are a solid, non-porous, homogeneous surfacing material composed of 1/3 acrylic resin and 2/3 natural minerals. It is solid through its entire thickness and can be fabricated with inconspicuous seams, rendering its surface very hygienic. Surfaces in DuPont Corian are renewable, meaning they can be fully restored with ordinary mild abrasive cleansers and scouring pad. Any damage caused by abuse can usually be repaired on site without having to completely replace the material. Corian's general toughness, impact indentation, chemical and heat resistance provides a very durable work surface that will last a lifetime.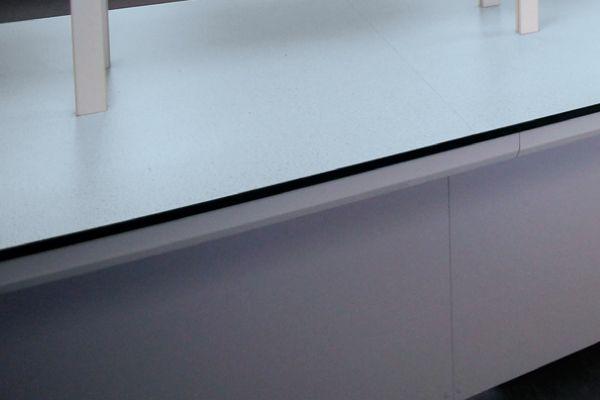 Trespa Toplab Plus Worktop
S+B worktops manufactured with Trespa® Toplab®PLUS unique Electron Beam Curing (EBC) technology has a surface that is easy to clean and shows a high resistance to a large number of aggressive chemicals. It also has inherent antibacterial properties without the addition of microbial additives.
Trespa® Toplab®PLUS worktops provide an ideal choice in environments where hygiene, avoidance of contamination, sustainability, ergonomics and safety are of importance. Trespa® Toplab®PLUS is extensively used in a wide variety of lab environments worldwide, including chemical, physical, analytical and microbiological laboratories.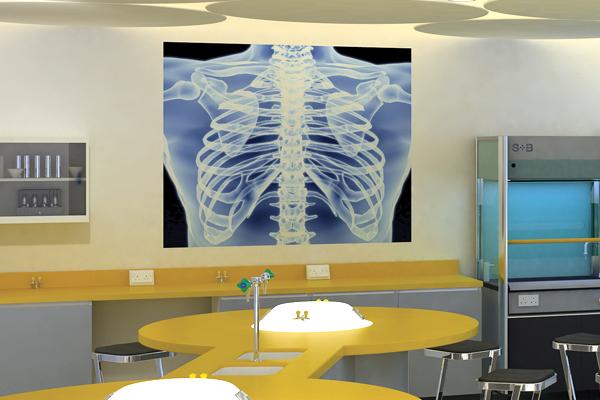 Murals
At S+B we offer a wide range of wall murals along with our bespoke interiors to create environments that stimulate the learning experience. We believe that well conceived and inspirational educational environments help realise a sense of well-being that supports learning and achievement.
Our range of wall murals along with our bespoke interiors create environments that stimulate the learning experience.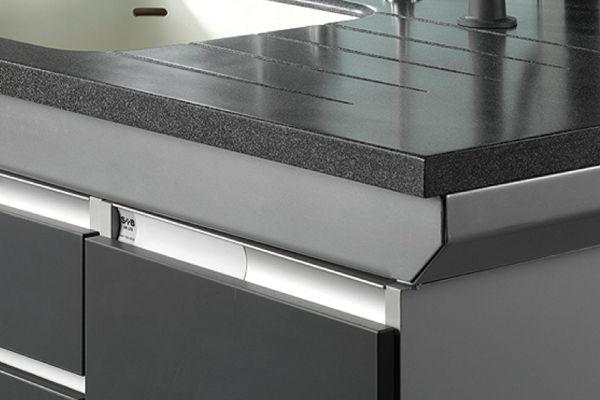 Polylab Worktop
Our Polylab worktops are composed of Aluminium hydroxide bonded with methylmethacrylate. This gives a marble like appearance and provides a flat, stable, inert and easy to clean work surface. Linear runs are aligned, pulled together and sealed by means of parent material being used as a bonding agent which provides a completely seamless join.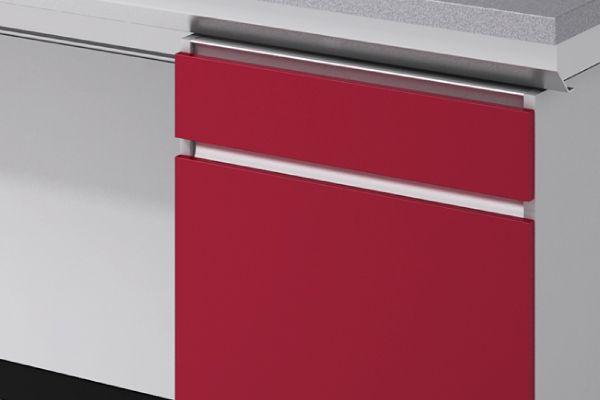 Door & Drawer Fronts
Our standard range has been developed to provide choice and to maximise order processing, purchasing, planning, manufacture, waste management and installation efficiency.
Edging is always supplied on a "closest match available" basis in comparison to the door and drawer fronts, unless otherwise stipulated. Edging is not always the exact same colour as the fronts depending on colour choice. Especially if a patterned or mottled colour is chosen.