A recirculating fume cupboard works by filtering unpleasant and potentially hazardous substances generated by work activity being carried out in the chamber before releasing the clean air back into the room.
This contrasts with installed ducted fume cupboards, where the contaminated air is transported along ducting and released externally to the outdoor environment. 
Recirculating fume cupboards typically have little or no installation costs unlike the significant expense and disruption necessary for the installation of a ductwork fume extraction system. 
Different filters are available to suit different applications, allowing the fume cupboard to filter out contaminants and ensure only clean, safe air is released.
Installation of recirculating fume cupboards 
There are several important factors to keep in mind when installing recirculating fume cupboards: 
Ventilation 
Fume cupboards should have good airflow which should be checked regularly. Many models are fitted with alarm systems which warn of low air flow caused by fan failure or clogged filters. All fume cupboards must undergo a full COSHH inspection at least every 14 months and it is advisable to carry out a filter saturation test at the same time. Some advisory bodies such as CLEAPSS provide filter testing training. Independent test houses and fume cupboard manufacturers can provide this service.
Filters 
There is no such thing as a one size fits all universal filter, so it is important to ensure the filter chosen is suitable for the intended application. Guidance is available from the manufacturers and the growing popularity of recirculating fume cupboards in schools due to cost and flexibility advantages has resulted in the creation of application lists and the development of filters suited to the typical range of activities carried out in school laboratories.
Cleaning and Maintenance 
As well as mandatory COSHH testing, operating components such as services (gas, water, electricity) outlets should be checked, typically at the same time. Worktops and sash windows should be cleaned and sash movement mechanisms should be checked.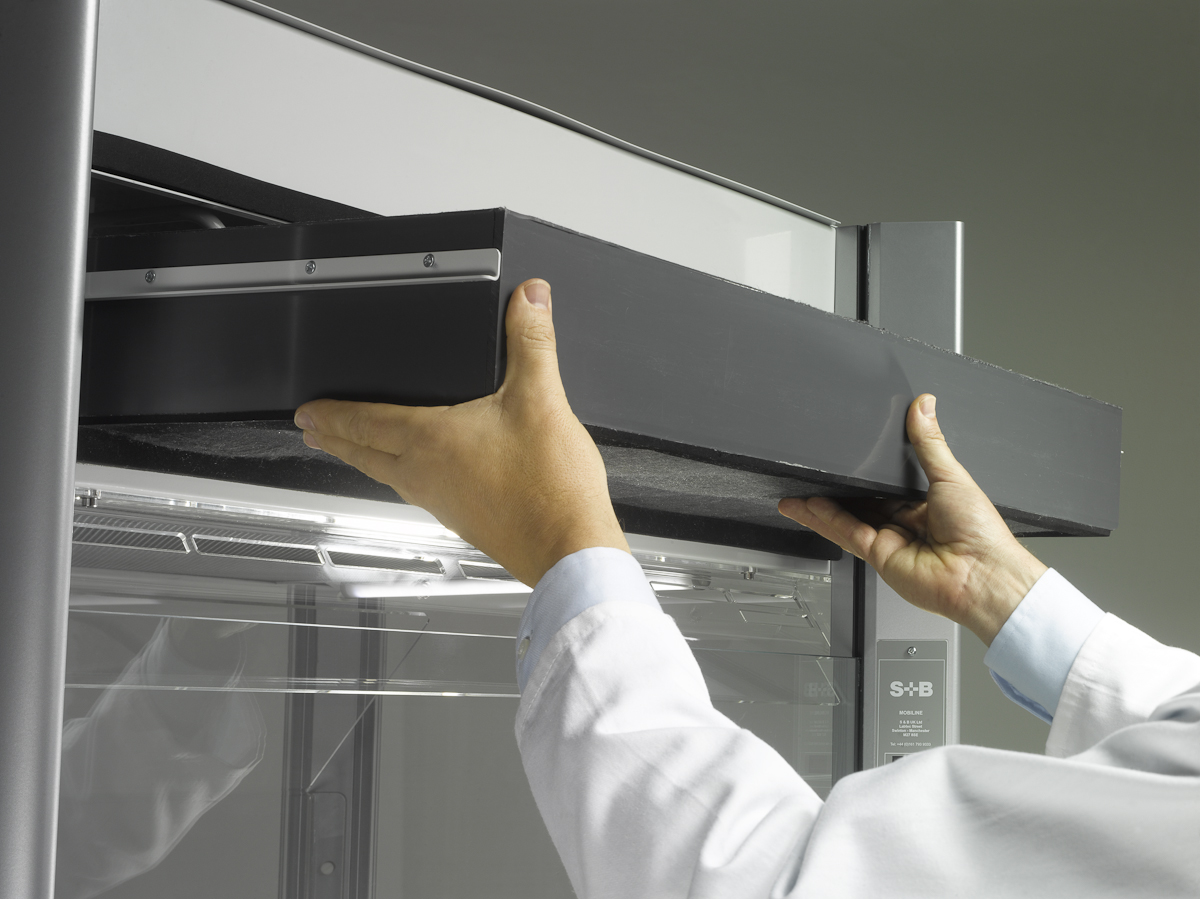 Fume cupboard replacement filter

Why choose recirculating fume cupboards? 
Recirculating fume cupboards offer significant overall cost advantages compared with installed ducted fume cupboards, but it is also the flexibility and convenience that makes them a popular option. 
Product lines like Mobiline fume cupboards are popular in schools and colleges, where it may not be appropriate to install ductwork in a classroom that is not a permanent laboratory setting, where local building regulations/restrictions will not allow external fume extraction plant or extraction of fumes to the local environment. 
Durable construction means Mobiline recirculatory fume cupboards should withstand normal classroom use for at least 25 years, while comprehensive alarms and warnings alert the operator to fan failures and other emergencies.
Using portable fume cupboards 
One of the great features of Mobiline for classrooms is the option of having portable fume cupboards that can be stored away when not in use and which can be shared between rooms. 
The fume cupboard can be wheeled into place and hooked up to a services docking point to supply it with the mains utilities required for operation. 
As a result of this, the classroom can be used for chemistry lessons and other lab work, but may also be reconfigured when chemicals are not in use, to teach other separate and combined science classes, or completely different subjects entirely.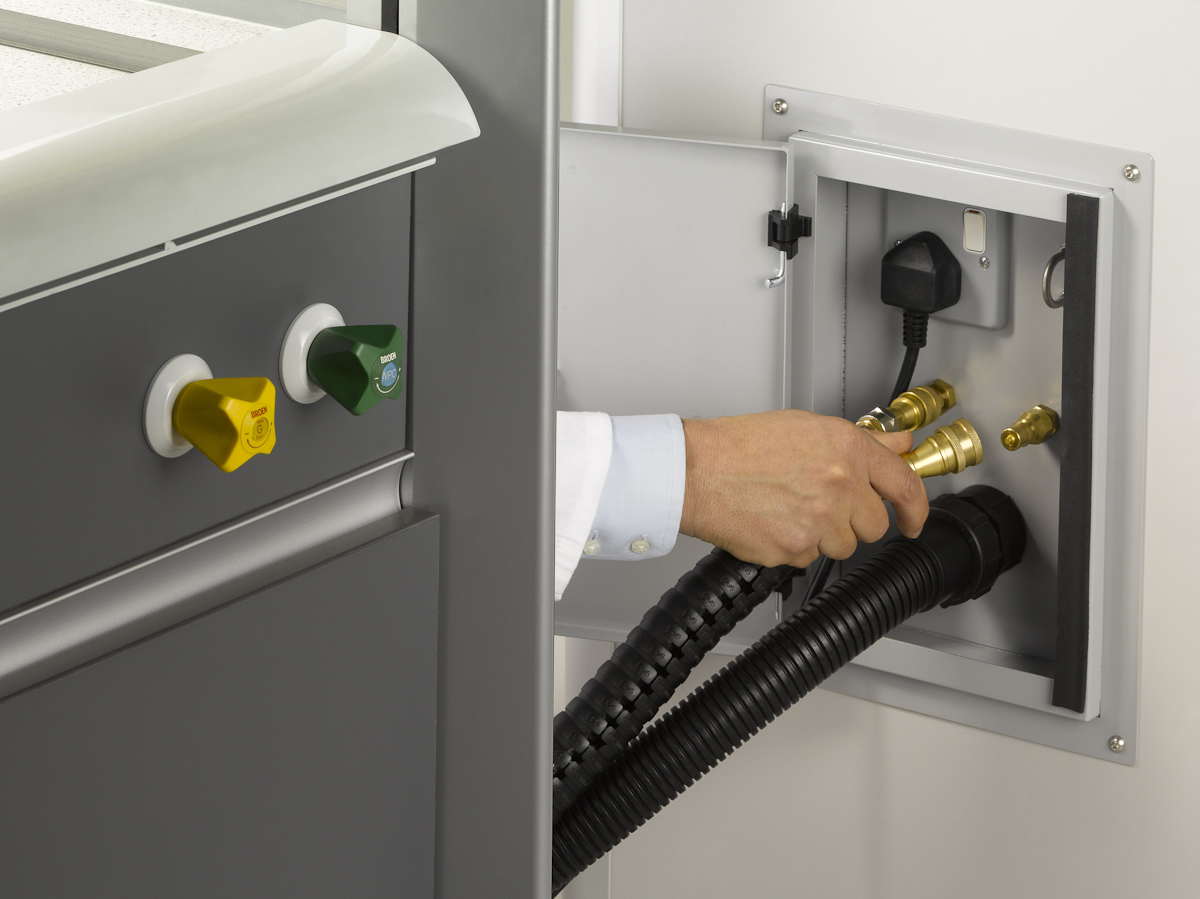 Fume cupboard docking station
Find out more about Mobiline 
If you would like to know more about Mobiline recirculating fume cupboards or you have any more questions about how recirculating fume cupboards work, please get in touch.
We supply a range of recirculating fume and ducted fume cupboards not only to educational establishments, but also for use in commercial laboratories, healthcare and R&D, with good aftercare and servicing options available. 
You can read more about Mobiline in the Mobiline brochure available from our website, with downloadable galleries/brochures showing our extensive range of worktops, laboratory benching systems, storage cabinetry options, colour choices, and our range of ergonmic stools to help create a fully integrated learning and working environment. 
If you still have any remaining questions or you would like to place an order, you can fill in our online contact form, email or telephone us, and our team will be happy to help.